Description
The iSnake portable plumbing camera is a universal tool that can be widely used for remote visual inspection to save you time, money and inconvenience. Whether you inspect laterals, drains, air or chimney ducts, the iSnake system will deliver. It is easy to operate and one person can use all of the features and functions.

This unit was specially designed to meet contractor's demands for a portable, easy-to-use and economical camera for plumbing to inspect pipelines and ducts. Set up takes seconds, and the iSnake can be used in even the tightest spaces to provide you with the ability to inspect in real time and capture images or video to document your inspections.

Thanks to a new CCD camera chip which features 720x480 (NTSC) pixel resolution, and faster processing, you get a crisp and detailed image on the integrated 7" color monitor. The camera and push rod are completely water/oil proof (IP68). The camera is placed on flexible spring neck to overcome difficult and curved areas inside pipelines, and if you damage the camera, it is removable so you don't need to replace the entire unit, since the camera head detaches.

The iSnake plumbing camera features easy to use, large ergonomic controls, and an intuitive operation. Its highly portable design has an anti-shock construction, so it can travel with you anywhere.

Files are captured to an SD memory card (included). A video output jack can transfer the live image to a larger TV monitor, to discuss repairs, and troubleshooting on the spot with customers.

The iSnake operates on a Li-Ion rechargeable battery which is good for 4 hours of inspection.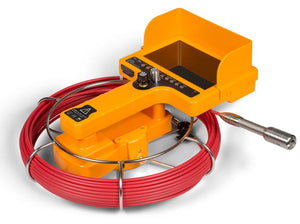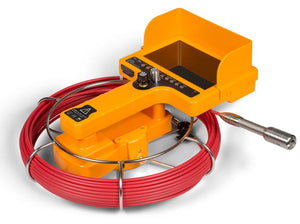 Handheld Plumbing Camera iSnake