Description
The Rigid Borescopes are computer designed and manufactured to comply with up-to-date standards for a wide range of industrial applications. Due to their direct glass lenses, these rigid units provide a significantly higher resolution image than the flexible fiberscopes and videoscopes. 
The body of the scope, light post, and insertion tube, are manufactured from corrosion-free stainless steel. All exterior elements are well adjusted and fluid resistant.
In the optical system, the coated rod lenses provide brilliant image quality with great contrast and brightness. The construction of the optical system guarantees a distortion-free image of the inspection area.
Additional features include fixed prism lenses built into the tips for borescopes with various DOV. Prism lenses allow alternate directions of view (DOV) including; 30°, 70°, 90°, and 110°. Since the image and illumination are completely 
ACMI, STORZ, OLYMPUS, and WOLF Light post connection allows easy coupling to most light sources available on the market.
To learn more about rigid borescopes we supply visit our online catalog.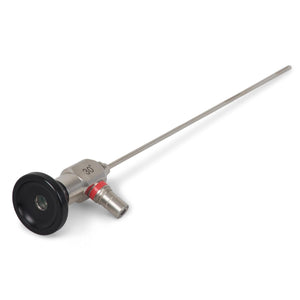 Rigid Borescope