Description
The ANACONDA HD Sewer Camera is one of the most affordable Pan-and-Tilt pipe inspection systems on the market today. It can be equipped with either dual-view, or pan-and-tilt camera heads. These camera heads are waterproof and well suited for inspecting sewers, drains, ducts, manholes, culverts, wells, and tanks. This is going to give you high-definition image quality at a reasonable price.
The Dual View head has built-in front and rotatable side cameras. The Pan-and-Tilt head will pan side to side at least 90-degrees in each direction, to better view the side walls or around corners, and you can also spin the camera head in a full 360-degrees circle enabling you to fully survey the entire surface of the inspection area. The HD color sensor is protected by a durable, scratch-proof, sapphire lens and aluminum and stainless steel construction. White LEDs are great for illuminating large-diameter areas and providing consistent light dispersion over the entire surface, and there is a built-in 512Hz sonde to locate the camera head underground. The camera heads are also interchangeable, which is great for areas that may require spare parts or backup units due to damage or contamination.
The system can be ordered with either flexible dropdown cable or fiberglass push cable coiled onto a standalone reel, with a built-in digital footage counter, controls, and a locking mechanism.
The control box is weatherproof and has a protective sunshield over an 8.0" color HD IPS LSD monitor. Pre-installed options include video and image capture directly to a USB memory stick, a WiFi keyboard to add text to files, a microphone, and a rechargeable battery for portable use. Switching between the camera signals is controlled via a simple dial, and the image can be switched during live video recording as well.
For more information about the system go to the product page at our online catalog.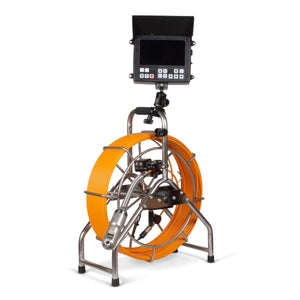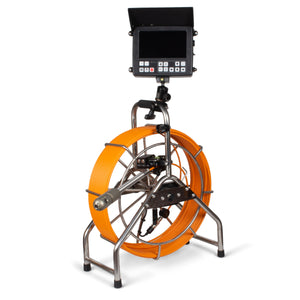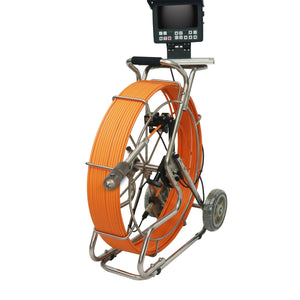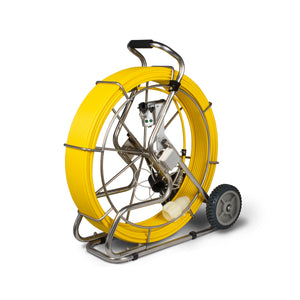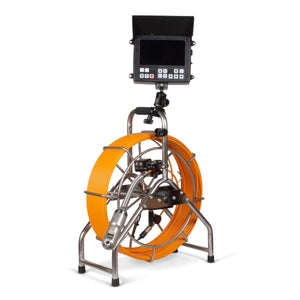 Pipe Camera ANACONDA HD