Description
The ORION portable video borescope is small in size, ergonomic, and features a wide scope of advanced imaging characteristics. It's especially popular among operators who have to work in limited spaces, climb steep ladders, stay in awkward positions for prolonged periods of time and operate in other conditions that require compact yet precise devices.
These video borescopes are available with articulating and non-articulating flexible, flex-and-stay, and rigid configurations of various diameters, lengths, and directions of view (DOF). The insertion probes range from 2.8mm (0.110") to 16mm (0.629") in diameter and are all waterproof (IP 67). The CMOS camera chips are faster and more sensitive than any current generic products on the market. Insertion probes with 2-way tip articulation in each direction allow thorough examinations of areas of interest. Angulation lock helps to hold the tip in a desirable position up to 180 degrees in each direction.
The 3.5" monitor features digital enhancements like a grid, mirror image, brightness and contrast control, and 8x digital zoom. There is also an SD memory card included to capture images and video, this is hidden behind the protective rubber bumpers of the monitor. The right side of the monitor also houses the power connection, USB connection to transfer files, and TV output, to view live images on a larger monitor.
For more information about this inspection system check the product's page at our online catalog at Fiberscope.net.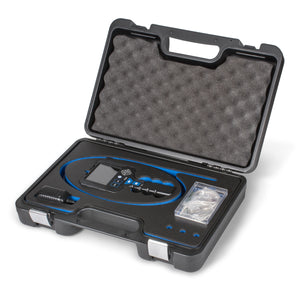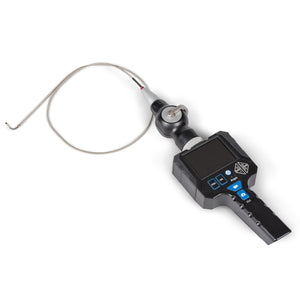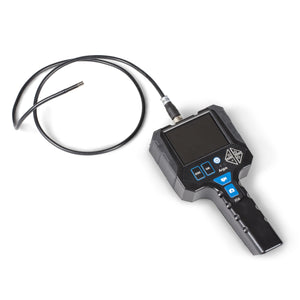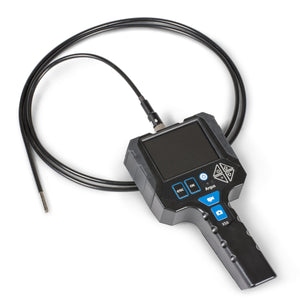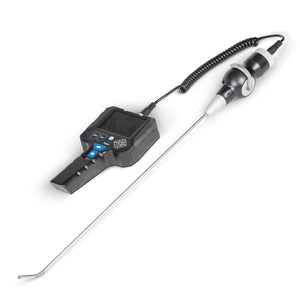 Video Borescope ORION