Description
Medit's veterinary Transcervical Insemination Set includes a stainless steel endoscope and operational sheath. This unit can be used for diagnostics (vaginoscopy, colposcopy, and urethroscopy), endosurgery, and artificial insemination in dogs.

The endoscope features crisp rod glass lens optics and a light post with Storz, Wolf, and Olympus connections for light sources. Its shaft is typically 4mm in diameter with a 30-degree angle of view and a working length of 300mm (12").
The included operational sheath features two fluid ports for suction, irrigation, or insufflation, a third working channel for flexible forceps or a catheter. The endoscopes are waterproof and withstand soaking in sterilization solutions.

To make your inspections more efficient and informative, you can attach an optional video system to the cystoscope to see a live video on a screen or capture still images or video, which you can then share with your colleagues or clients or use for further purposes.

There is the option of adding a light source of the customer's choice to the set. For in-clinic use, we always recommend a more powerful, stand-alone MS-LED light source.

The sheath adds to the outer diameter of the telescope.

This set includes:

4mm diameter, 30-degree angle of view, 300mm (12") length endoscope
Sheath with two fluid (dual stopcocks) and one working port: 30Fr. (in the widest part), 257mm working length
Optional light source and/or video camera of your choice.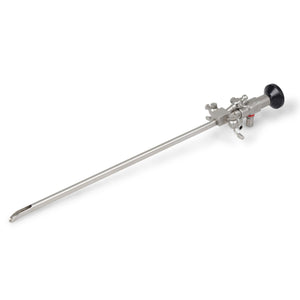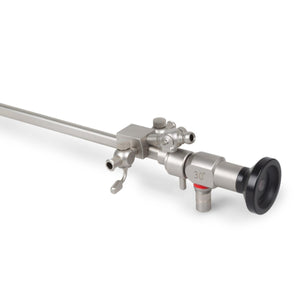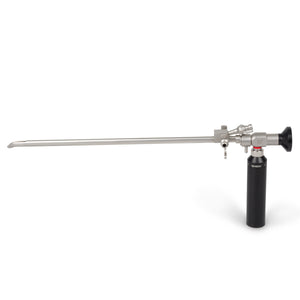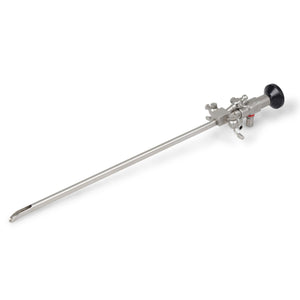 Transcervical Insemination Set (Veterinary Endoscope for Vaginoscopy, Cystoscopy and Artificial Insemination).