Description
Endoscope Camera with ED-Cam monitor is enabling you to perform quick, efficient observation and obtain highly informative reports for easy problem identification.
The unit is equipped with a 3.5" color LCD display, a high-resolution CCD camera chip, and a universal focusable coupler that allows you to connect virtually any type of rigid or flexible optical endoscope. The setup is very easy and takes only seconds – the borescope is attached to the C-mount video camera, aligning the CCD video chip with the control unit.
You can perform inspections, capture images or videos, add voice comments, and save all the data to an SD memory card. You can hold the monitor in your hand, put it on a tripod, or hang it on the magnet.
Technical Specifications:
CCD Camera Unit:

Video Coupler Focal Length(mm): F14, 18, 28, 35mm

Sensor resolution: 1,300,000 pixels

Auto white balance

Mount: C/CS
Monitor:

3.5" Color LCD Display: 720x640 pixels

Grid, Mirror Options

Digital Zoom In/Out

Image(JPEG) /Video (MPEG4) File Capture to an SD Card

AV output (PAL/NTSC selectable)

Microphone

USB port (1.1/20.) to transfer data to PC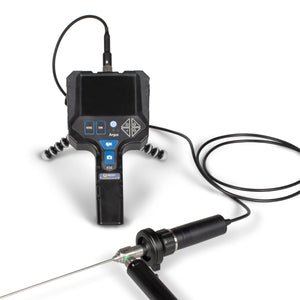 Endoscope Camera with Handheld ED-Cam Monitor