Description
The VIPER drain camera is a cost-effective set designed to deliver inspections of sewers, building ducts/piping, wells, chimneys, and power plants. These sets feature small portable probes coiled on a steel reel, with all of the accessories stored in one durable hard plastic carrying case which takes up very little space and can easily travel to different job sites.
The VIPER drain cameras have 3 main parts; the camera head, the push cable on the reel, and the monitor set up in the carrying case. The camera head houses a high-resolution CCD camera chip with a wide-angle field of view, designed to capture bright, crisp, color images and video of your inspections. There are also adjustable LED lights to illuminate the inspection area, a flexible spring to navigate corners, and a scratch-resistant sapphire lens. The PVC-coated fiberglass push cable is waterproof and available in different lengths.
The waterproof and lightweight plastic carrying case houses a 9' TFT color LCD screen and additional controls, including the DVR box, to capture images and uncompressed video directly to an SD memory card or an external USB storage, a USB keyboard for text generation, a rechargeable battery for portable use, a microphone, and a couple of skids for the camera head.
The VIPER drain camera is the optimal solution when portability and maneuverability are extremely important.
There are 4 additional interchangeable camera heads available for this push camera for different applications and setups. The smallest camera head (0.27") is coming permanently attached to a push cable and has no sonde and spring section.
Some camera heads are available with a built-in 512Hz frequency sonde. This allows the operator to locate the camera head underground or behind walls, and to determine its exact depth up to 5 to 8 feet (1.5 - 2.5 meters) depending on the strength of the signal, and the pipe material. This is done using the XT512 Locator, or any locator that picks up a 512Hz signal.
For more information about this inspection system check the product page at our online catalog.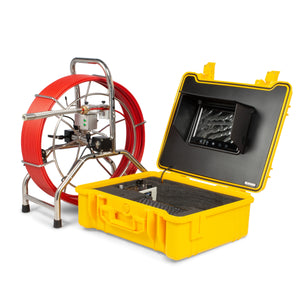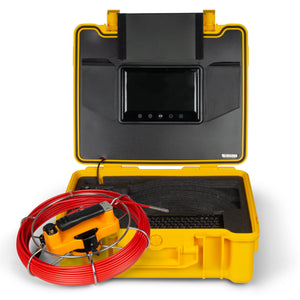 Drain Camera VIPER